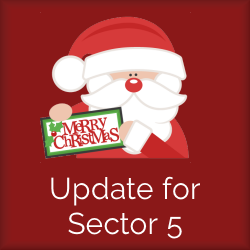 Attention Sector 5 — it's finally our turn. NOW we can officially check in.
Please go to this page to do that.
I hope you don't skip this step or think that it is too late to do it. Even if you see this post hours later you can and should still go to the link and check in with the North Pole.
The Flight Command Center looks at all check ins with great attention to detail. If they know enough trackers are on the job in a sector then they will trust us to respond to things that Santa needs.
We have a very large sector, but we're not the largest. However, we have more Santa trackers elves than any other sector.
That means that Sector 5 should be the biggest and best of Santa's tracker elves.
Let's show Santa what we can do. Let's get checked in. And let's get ready to work.