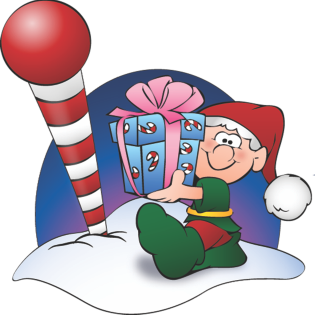 Tracking Santa is not something just fans of Santa do. Santa has people tracking Santa, too. They are called elves.
This site is not for everyone. It is for elves who work for Santa as Santa Trackers.
Why would Santa need elves that track him?
Santa has a big job – a very big job! Santa is the first to admit that he needs the help of a lot of elves.
Most tend to think of elves as toy makers. Indeed, many are toy makers.
But Santa also has elves that help him with other things — things like reindeer, his sleigh, wrapping presents and – yes – even flying around the world.
We have other websites that tell that story. But this website is run by a staff of elves in North Pole Flight Command. They are part of what we at the North Pole call the Tracking Department.
Every year North Pole Flight Command helps Santa plan his flight around the world.
They look at the weather. They seek out information from every corner of the world. Flight Command tells Santa about obstacles in his path. In fact the only way Santa pulls this off is by having a tracking department with elves everywhere.
The Tracking Department is — by far — the biggest department of elves working for Santa Claus.
Just before Santa takes off he sends some elves from the North Pole to different areas of the world to track him, look for dangers and to report back to the North Pole.
He also has elves — millions of them, in fact — that just report on those things from where they live.
This website is where those elves receive their instructions and send in their reports to North Pole Flight Command.
It is a site by elves – for elves. It is a site for those who track Santa for Santa.
We get lots of email from people who want to do this – to be an official Santa Tracker.
And yes it is possible but first you must apply to become an elf and to live by the Elf Code. We explain all that to you in Elf University.
Then, and only then, can you apply to become an official Santa Tracker.
0
Weeks
0
Days
0
Hours
0
Minutes
0
Seconds
SantaTrackers.net
c/o Santa Claus Ltd.
1 Candy Cane Lane
North Pole
888-814-XMAS
elf@santatrackers.net