Tracking Santa on the Radio
Tracking Santa on the Radio is a long held tradition on Kringle Radio at the North Pole. Right now, in a player in the footer of this site, is a player that is sharing a rebroadcast of the Tracking Santa Around the World radio show from last Christmas. You can hear the best commercial-free Christmas music coupled with news reports directly from North Pole Radio News hosted by Elf Frank Myrrh. It's the merriest radio show in the world!
This massive effort of elves in the News Department spans the globe. Each sector has their own news anchor. The great music is only interrupted with breaking news from "somewhere out there" every 15-30 minutes for more than 50 continuous hours. The program begins when Christmas Eve dawns in the far corners of the world and does not end until Santa safely returns to the North Pole. That's more than 2 full days!
The are news updates from Flight Command, news reports from Elf Crash Murphy (Santa's eye in the sky reporter who follows behind Santa every year, and interviews from eye witnesses and tracker elves all over the world.
We know not everyone can listen to this broadcast at Christmastime so we re-share it during Christmas in July. To hear the broadcast just click on the graphic below or via the player in the footer of this page.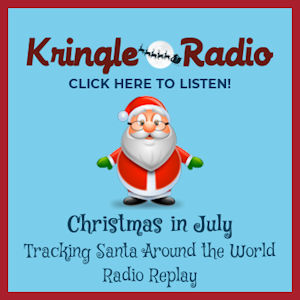 Enjoy!
https://santatrackers.net/wp-content/uploads/2021/07/072321.jpg
321
845
Elf Frank Myrrh
https://santatrackers.net/wp-content/uploads/2022/02/logo5.png
Elf Frank Myrrh
2021-07-23 03:09:39
2021-07-23 03:09:39
Tracking Santa on the Radio