North Pole Flight Command told me the other day they are getting mail from site visitors to their website requesting to see pictures of Santa's new sleigh.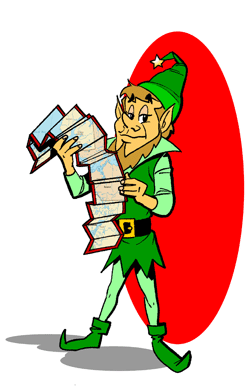 That's never going to happen.
Of course, North Pole Flight Command will not publicly comment about this. But I can talk to you elves here about that.
A few years ago I shared a number of pictures I've taken at the North Pole. It's not like pictures here cannot be taken. In fact, if there is one of the test sleighs in the Sleigh Barn I could go over there any time and take a picture of it.
But that does not mean I could share it. North Pole Security would likely throw me in elf jail.
You see, sharing those pictures of the North Pole during Christmas in July a few years ago was really unusual. It took Santa's personal approval, over the objections of North Pole Security, and a six month review before I could share those simple pictures.
What's the problem?
After all, Santa's sleigh flies in public. Anyone and everyone if they worked hard enough could just take a picture of Santa's sleigh on Christmas Eve, whether in the sky or at their own house. Santa's out there and he can't stop cameras.
So why can't we see a photo of Santa's sleigh?
The answer is really simple: there is what they call "proprietary information" that could be exposed if a picture with too many details is shared.
What does that mean?
It means that North Pole Flight Command and especially North Pole Security don't want you to know everything that goes into Santa's sleigh.
Think about it. Companies that make new cars work for years to develop new vehicles with ever-improving features. They operate their own closed test tracks and set up fortress-like security to keep the public and their competitors from getting anywhere close with any kind of camera.
They do that to protect themselves.
It is very much the same way with Santa's sleigh. We share some information with you – but not everything. A picture of the current sleigh would just expose Santa and the reindeer to all kinds of problems if details of it got in the hands of the bad guys.
Bad guys? What bad guys?
Well, if you have ever listened to North Pole Radio News on Christmas Eve you know there is no shortage of effort made to capture Santa, kidnap Santa, delay Santa or even stop Santa from the bad guys that are out there. (Click here to listen to a radio report from a few years ago)
We don't want to talk about bad guys. They exist. No need to waste time or energy carrying on about them. But Santa's sleigh is a legitimate concern for tracker elves like us. So I understand totally the curiosity you might have about it.
I have seen Santa's many sleighs over the years. Last year's was especially cool because it was a 50-year old sleigh pressed into emergency service. I remember that sleigh when it first came out and I can totally understand why Santa wanted to use it.
But I haven't seen this year's much-talked about new sleigh. You see, I'm something of a Santa purist. I don't want to see Santa's sleigh until I can see Santa in it.
So, I will be in that Sleigh Barn when Santa is scheduled to launch. And I'll have my camera. I'll be taking pictures. You can take that to the bank. But I won't be sharing pictures.
I can't. They won't let me. And now you know why.
But, you're elves. You deserve to know the answers to your questions.
So here is what I suggest:
I know Elf Crash is working on a chat with Santa sometime before Christmas just for you elves, right here on SantaTrackers.net. I don't have any information yet about when that will be. But, like any chat with Santa, you won't want to miss it.
I suggest you just make up a list of questions about the sleigh and present them to Santa.
North Pole Security can't do anything about what Santa might share with you. He's got the final say-so in everything.
Just ask him. Santa loves to give you guys answers.
https://santatrackers.net/wp-content/uploads/2023/09/093023.png
321
845
Elf Ed Zachary
https://santatrackers.net/wp-content/uploads/2022/02/logo5.png
Elf Ed Zachary
2023-09-30 06:48:37
2023-09-30 06:48:37
Why You Don't See Pictures of the Sleigh