Elf Recruiting Tools Added
There are new elf recruiting tools added to help you find more elves to join our merry effort. Click here to access them.
There are several new features.
First, we have new images for use on social media. They come in different sizes for use on different channels. Square images, for example, are made for use on Instagram, Snapchat and Tik Tok. Rectangular images or "landscape" shaped pictures are used on Facebook and Twitter.
Second, SantaTrackers.net has now joined Instagram. You can find us at this link.
Third, we have added some social media jump links to all pages and posts on SantaTrackers.net. The look like this at the bottom of every page. If you have an account with any of those sites you can quickly link any page on SantaTrackers.net as a post with just the click of a button: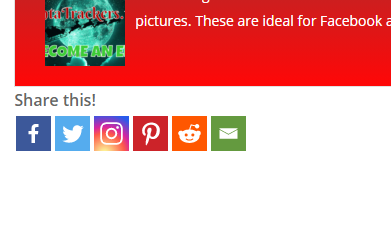 We have some other new features to be announced very soon.
https://santatrackers.net/wp-content/uploads/2021/08/082121a.jpg
321
845
Elf Ivy Holley
https://santatrackers.net/wp-content/uploads/2022/02/logo5.png
Elf Ivy Holley
2021-08-21 09:06:36
2021-08-21 09:06:36
Elf Recruiting Tools Added