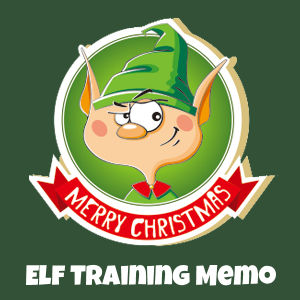 The time you spend working as an elf is not monitored. Because Santa has an all volunteer elf support staff he depends on elves learning their duties and devoting the time they feel is necessary to do the job well.
Here is a brief breakdown of time we feel you will need to set aside for tracking Santa for Santa:
Elf Training – To get through Elf University, learn the websites and become established in the Elf Community takes about a month. This is a big concern for elves signing up in the weeks before Christmas. Yes, of course, some elves might get through the training in less time than a month. But if you're not here before Thanksgiving, you're going to struggle a little.
Elf Activity – Day to day activity from January through October is pretty easy. News is posted year round, Elf chats and other online features constantly pop-up, and there are always new things to learn. But if you check in once a day you'll keep up with things just fine and you will know what to expect during the busier periods of the year.
November/December – As the countdown to Santa's launch winds down, activity for elves ramps up. From the North Pole Halloween Party on October 31st until The Thanksgiving Day Elf Parade in late November the focus shifts from preparation to execution. The day after Thanksgiving begins what is known as Operation Merry Christmas – that's where everything comes together:
Tracker Reporting – Thanksgiving to Christmas Eve

Week 1: Roof and Chimney Inspection Period
Week 2: Christmas Tree and Stocking Reports
Week 3: Local Christmas Conditions, Merriment Studies
Week 4: Weather, Air, Ground and Transportation Reporting

Tracker Check-in: Roughly 48 hours before launch
The Red Zone: When Christmas hits your sector, elves are in what is called The Red Zone.
Santa's Flight: Last minute reports from personal observation of local surroundings
Stand Down: Bedtime for Santa Trackers. We are believers too.
Policy on Elf Time versus Family Time – Santa does NOT require that family time be sacrificed for elf duties. In many families, the tracking of Santa for Santa is frequently an event shared among all elves in a household. But tracking Santa does not take the place of other Christmas traditions. Santa understands that it is a busy time and that other priorities must take precedence. North Pole Flight Command is grateful for the time and efforts made to help track Santa for Santa according to your timetable and ability to contribute.