Sector 5 – Central and North America
Sector HQ: Cold Lake, Alberta, Canada
Command Center Director: @elfpinky
Broadcast Start Time on Kringle Radio: 23 December @ 5:00
Local Time for Santa's Scheduled Launch: 24 December @ 1:00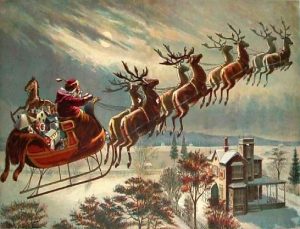 Sector 5 covers North America, perhaps the place where Santa is most popular in the world. The US, Canada and Central America roll out the red carpet for Santa every year and if they had their way Santa would take a week to deliver and bring more stuff. Signs of Santa and his celebration are everywhere.
Issues that Santa runs into in this sector: Santa frequently gets bogged down in eastern coastal areas especially due to a combination of a late-night nightlife tradition and the density of Santa-believing neighborhoods. The US Military is an enthusiastic Santa supporter but frankly with all the escort jets, boats and helicopters it is all just a bit too much. Santa tries to shake them as quick as he can and he really appreciates how quiet things can be out in the west of the USA.
Information the North Pole Tracking Center needs most from this area: Eyes on every street, both sides of the street with be ideal.
How Christmas is celebrated: Families and parties set the tone and the pace for Santa. When those shut down, Santa can go to work.