Gifting points is the act of giving some of your points to another elf.
Why would you want to do that?
Well, for one, you're an elf. Giving is just what we do. Santa calls it the "Essence of Christmas", or, in other words, what Christmas is all about.
An elf might have good reason to need to receive points as a gift. Points are needed to show elf experience, to get better elf jobs and to improve standing in the Elf Community.
Maybe an elf just needs a little point bump to get them to a new level.
To gift points to another elf, just look for this interface in the bottom right hand corner of the Elf Points Summary page: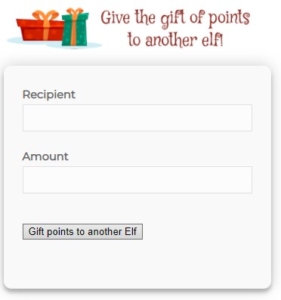 Just input the @username of the Elf you want to receive the points and the amount of points you want them to have. Click the button and the transfer of points is instant from your account to theirs.