Sector 5 Celebrates New Regional Tracking Center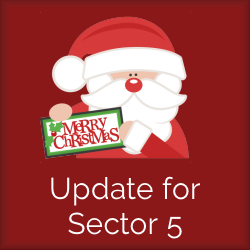 Greetings all ye Trackers of Sector 5! Elf Pinky here.
I'm your boss.
Haha. Actually, I'm just an elf just like you. But did you know that we – the ELVES OF SECTOR FIVE — are the greatest in the world!??
Today we have something to celebrate. Elf Max wanted to announce this a week or more ago but I wouldn't let him. I wanted to tell you myself. TODAY — RIGHT NOW HOMIES — WE ARE IN BUSINESS IN OUR NEW REGIONAL TRACKING CENTER FOR CENTRAL AND NORTH AMERICA.
We're located in beautiful downtown Antler, North Dakota.
Yes, the lights are on. The Christmas tree is up. The computers are computing. The Internet is all wired. We are in business. If Santa wanted to launch tonight we'd be ready to roll.
And rolling is what we'll be doing soon. The news is going to come at you pretty fast, probably starting the first of next week.
I will be your news person. I will be giving you updates.
But here's the thing to remember: we're last. Santa has to go to every other sector before he gets to us. So you're going to see stuff come out from other elf supervisors and you're going to say, "Where is Elf Pinky? Why does my Elf Supervisor suck?"
I don't suck. I give you the news you need when you need it. Santa saves the best for last. That's me. That's Sector 5. That's YOU!
So that's my first assignment for you, kids. Figure out why Sector 5 is last. These lessons in time and how that all works is something you need, as an elf to understand. And you REALLY need to understand it in Sector 5.
Now, I've gotten some messages. A few of you are asking to do a chat just for Sector 5. Um…I don't know about that yet. If you think that's a good idea. Please comment below. When would we do it. It HAS to happen before December 23rd. Just sayin'.
Let me know.
I'm SO FREAKING EXCITED!!!!!
https://santatrackers.net/wp-content/uploads/2020/12/120120.jpg
321
845
Elf Pinky
https://santatrackers.net/wp-content/uploads/2021/03/logo-1.png
Elf Pinky
2020-12-16 11:57:46
2020-12-16 11:57:46
Sector 5 Celebrates New Regional Tracking Center