Elf Training #23 – Local Ground Reports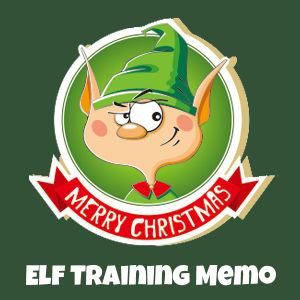 The local ground report is one that you will be filling out pretty close to when Santa launches. It is very important that this report is accurate close to when Santa will be there.
In many neighborhoods is it not practical for Santa to land on the rooftop. Sometimes there are obstacles like phone lines or antennas that make landing on a roof impossible. Sometimes a roof is just too small.
In those cases Santa has to land on the ground.
He usually likes to land in a yard, preferably on a level grassy area if there is room. Santa's sleigh is much larger than people realize. More often than not, Santa just has to park the sleigh on the street.
As you can see, Santa has to make a lot of decisions as a sleigh pilot when it comes to landing.
This is why the local ground report is so very important. You can help Santa to know exactly what to look out for or you can even tell him where you think the best place for him will be to park the sleigh.
When Santa lands in a neighborhood here is what is going through his mind (I talked with him about this a lot):
Where is it safe?
Where is it level?
Where can I put the sleigh that will make the steps to a house as few as possible?
Where can I put the sleigh to keep it close to a water source (so he can give the reindeer water)?
Where can I put the sleigh to make for a fast take off?
Don't be shy in telling Santa exactly what you think with this report. Pretend you are landing the sleigh and tell Santa what you would do if you were the sleigh pilot.
Your supervisor will be sending you word when it will be the best time to send in this report. Your elf supervisor may ask for this report more than one time from you. If conditions change — say, the weather — they may feel an updated local ground report will be necessary.
Click here to access this report.
Questions? Please put them in the comments below.
https://santatrackers.net/wp-content/uploads/2020/12/121720A-1.jpg
321
845
Elf Max
https://santatrackers.net/wp-content/uploads/2021/03/logo-1.png
Elf Max
2020-12-17 08:58:17
2020-12-17 08:59:28
Elf Training #23 – Local Ground Reports