Finding and Helping New Elves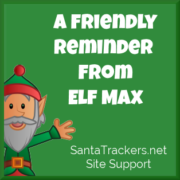 Ok, kids! Listen up. Max here. How are ya?
We are entering a new phase in the build-up to 40 million new tracker elves for Tracking Santa this year.
Elf Roger told me this was how it was going to happen. He said things would be very quiet for several months. He said the tracker elves we get signed up between July and October are usually the best tracker elves we get all year. And he's right. You guys have been great!
Roger said that right around Halloween and just after we would see a burst of new activity. He said we'll get a nice bump in the numbers and that people might get excited. Then he said it will die down a little bit and then, over Thanksgiving weekend, we'll see another burst of new elves. Finally, things appear busier and then it just goes nuts right around the 17th or 18th of December.
Well, so far, he's right.
Today has not been a normal Friday. We have had a lot more new elves come on board compared to last Friday. And this week overall has seen more join than last week.
So it's happening.
We are worried just as much about the quality of our new elves as we are the quantity of them. You can help by welcoming new people you see in the comment areas of posts like this one and answering their questions.
You can help a lot more by recruiting your family and friends to become elves. If you are on social media, you can post links to this site and the other sites of the North Pole.
We welcome late sign-ups, of course, but we feel it is best that everyone get on board now so they can get trained on how to be the best elf they can and help Santa get around the world this year.
Let's be ready for the numbers of folks coming on.
Thanks!
https://santatrackers.net/wp-content/uploads/2020/10/103020.jpg
321
845
Elf Max
https://santatrackers.net/wp-content/uploads/2021/03/logo-1.png
Elf Max
2020-10-30 14:50:23
2020-10-30 14:50:50
Finding and Helping New Elves