Each sector has a number of elves tracking Santa. But each sector also has a head elf — someone in charge to give direction and to provide answers for you. We call them Elf Supervisors. Their job is to see the "big picture" in their sector. They know everything going on, especially as Santa flies into their zone. They direct resources to help in case of an emergency and they keep flight command at the North Pole supplied with the information they need.
You should know your elf supervisor:
Sector 1 — Oceania — Elf Randi Hume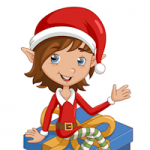 @elfrandi has worked for many years at the North Pole as a senior flight planner and associate test pilot. She brings many years of flight experience. She began her elf career after finishing a degree in Elf Culture at the St. Nicholas Institute for Elf Studies. She minored in math and astrophysics. She was originally hired as drama teacher at North Pole High School but pursued a degree in Flight Management in her spare time after watching a demonstration by the Research and Development Department of a radical new sleigh design back in 1954. She was recruited into a special test pilot program by Santa himself and distinguished herself over several seasons test piloting Santa's new sleigh. After several years of service in the Tracking Department Elf Randi assumes these new responsibilities in Australia with hopes of one day leading the team at the North Pole Flight Command Center.
Sector 2 — Asia and the Middle East — Elf Clifford Moyer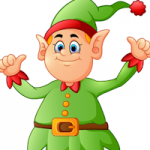 @elfclif has been promoted after years of faithful and dedicated service in North Pole Reindeer Operations. Clif's role in Reindeer Operations involved close association with the Tracking Department at the North Pole. He was required to work with reindeer teams in following Tracking and Flight Command protocol and was instrumental in coordinating many of the mass airlifts in recent years from the North Pole. He is an expert in Flight Command and is well suited for the position. Elf Clif is a long time presence at the North Pole getting his start in Santa's employ in 1917 hauling wood with reindeer teams from Austria. He speaks 14 languages and took a 3-year sabbatical to serve in the Peace Corps in Africa in the 1950s. Elf Clif lives with his wife of many years in one of the largest farms at the North Pole, keeping hot house plants and flowers year round, his passionate hobby.
Sector 3 — Europe and Africa — Elf Rolf Jannsen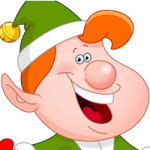 @elfrolf is a native of Austria. As a young man he moved to Russia and was a refugee of that country in 1915 when he found his way to Santa's employ. Skilled in carpentry, Rolf was given duties in Santa's workshop where he worked for many years. Charged with building the first airplane Santa ever flew in 1927 — thanks to his wood working skills — Elf Rolf was transferred to the Research and Development Department where he served for many years as a sleigh designer and eventually as a flight test pilot. Rolf took a departure from that work in the mid-1960s when he pursued a degree in computer science, a pioneering field for the North Pole. He returned in 1968 and for years served in data processing before being transferred to the North Pole Tracking and Flight Command Center as an IT specialist. He was instrumental in helping Santa to set up a network of satellites that have become the backbone of North Pole information systems to this day. Rolf lives with his wife, who is also an elf working as a social worker at the North Pole medical center. They have a lovely little home in town and keep 2 cats as pets, Charley and Nutmeg (his and her cats, Rolf says). In the off season Rolf enjoys gymnastics and experimenting in nuclear plastics.
Sector 4 — Greenland and South America — Elf Tubby Ryder

@elftubby is well known to those familiar with North Pole flight operations, where he has served as an Associate Director Flight Director for many years. He has given Christmas Eve flight service in many places all over the world, most notably in 1994 when Santa had to move all his flight operations to the South Pole. Elf Tubby coordinated that project. Elf Tubby has a large family of 18 children. He, his wife Delores and children live on a converted reindeer ranch not far from town. Tubby is an avid skier and is often found on Mt. Frosty here at the North Pole after Christmas is over, where he volunteers as a Ski Patrol member. Tubby is also a master chef, having attended school in Italy many years ago.
Sector 5 — Central and North America — Elf Pinky Yates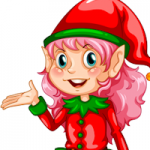 @elfpinky was recruited from the U.S. Air Force Academy in 1992 and has since served as an instructor in sleigh flight theory at the North Pole Institute of Aviation. She worked very hard to earn her elf credentials, working a second shift first as a tool repair technician in Santa's workshop and then as an engineer in the Wrapping Department designing wrapping machines. Elf Pinky in recent years was a recruiter and trainer of sleigh test pilots and flies under the call sign Barracuda. Last year she served as a Flight Operations Director and demonstrated outstanding judgment and maturity in her duties supervising more than 400 elves, pilots, reindeer handlers and sleigh freighters.