Tracker Elf Recruiting Goal Met Early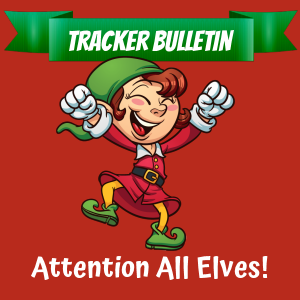 Congratulations, elves! We surpassed the goal Santa set for us last summer to have 40 million new tracker elves this Christmas.
Sometime over the past 12 hours that goal was met. How many more can we get?
Santa is hoping for a lot more — millions more, in fact.
Tracker elves, as you know, are a vital component to Santa's safety and flight speed on Christmas Eve. He depend on Tracker Elves everywhere to keep him alerted to location conditions. The more "eyes" he has out there reporting things to the North Pole the fast Santa can go, and, of course, the safer he and the reindeer will be.
Recruiting for this year's goal of 40 million tracker elves began during Christmas in July celebrations at the North Pole. At the time, it seemed to many at the North Pole to be an unreachable goal.
However, with 2020 being so strange with the pandemic and so many spending time at home online it was a much easier year to get the word out. People have been enthusiastically signing up to become elves in ever greater numbers. And they have been doing it earlier than ever.
We ask you to please keep up the efforts. Santa wants as many trackers as he can get this year!
https://santatrackers.net/wp-content/uploads/2020/12/121220.jpg
321
845
Elf Roger Star
https://santatrackers.net/wp-content/uploads/2021/03/logo-1.png
Elf Roger Star
2020-12-12 10:57:05
2020-12-12 10:57:05
Tracker Elf Recruiting Goal Met Early