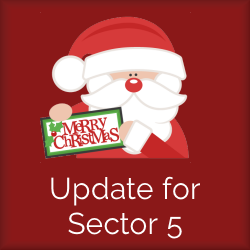 Rise and shine all ye great Santa trackers of Sector 5!
Elf Pinky here and from here on out, if you're a tracker in Sector 5, all eyes and ears should be on me. Yes, Elf Max and Elf Roger will still be posting news. But it will only be general news. For stuff that's specific to Sector 5, it's me! I'm on the clock.
Do you realize that we only have a few days left to put this together for Santa? We're going to be ready.
To begin, I'm going to put you to a little test.
I'd like your first official task as a tracker elf to be this: I want you to send me a photo report — that's right, your first report to the North Pole will be a picture of your Christmas tree.
If you don't have a Christmas tree, find one and take a photo of it and submit it.
Why?
I want to make sure we have the Christmas Spirit. I need to see trees in order to know that.
I want to see if you can do this.
Now, some of you might not have phones or cameras to take a picture. I realize that. So, if you don't, I'd like you instead to send me a weather report.
Both of these are simple reports and it gives me an idea of how many of you are paying attention.
Ready? GO!!
https://santatrackers.net/wp-content/uploads/2020/12/121820.jpg
321
845
Elf Pinky
https://santatrackers.net/wp-content/uploads/2021/03/logo-1.png
Elf Pinky
2020-12-18 06:33:25
2020-12-18 06:33:25
Sector 5 is on the Job!