Elf Training #7 – Recruiting Elves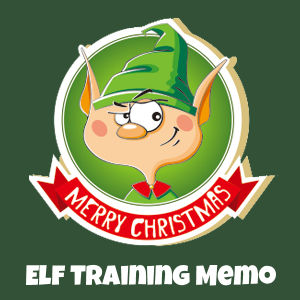 Hello Trackers!
Thanks for your questions and comments about our last Elf training post. Don't worry — we have lots of time left to get your setup just right. And please don't worry about what you have and what you don't have. Do the best you can with what you have.
Today I'd like to talk to you about another duty you have: recruiting new elves.
We have a good start on meeting our tracker elf goal for 2020. There has been a lot of great activity already and it's not even Halloween. I'm proud of you guys. Some of you have done a great job of telling your friends and spreading the word of the need for more elves. We have never seen this many elves sign up in September and October before. More and more are coming every day.
When every elf does their part isn't it something? Look at what we can do!
Recruiting new elves is not hard. All you have to do is to talk to people you know.
I have some ideas for you.
Don't think that just because someone is older than you that they don't want to be an elf. Tell them about what you are doing. Point them to this website. They may even say they don't believe you but trust me — they come to this website later when they are alone because of what you say.
Try to recruit one of your parents or older siblings. They may need a lot of your help to know what to do. But they will thank you later and it's always easier to have more than one elf in each house. Sharing the duties of tracking Santa is not only more productive it is also more fun.
Don't forget grandparents and older neighbors. You wouldn't believe has many older folks we have as elves. They are EXCELLENT elves.
For those of you who are old enough and have social media accounts on sites like Twitter, Facebook, Tik Tok, Snapchat, etc — don't be afraid to share these images found on this page. They are good for Instagram as well.
We are trying to reach out to different people online, too. We are doing interviews with radio stations and podcasts. But if you know anywhere that wants to help us or wants to interview one of us about this, don't be afraid to let us know!
We keep a countdown, or count up in this case, of how we're doing. As I write this, it appears we just passed 32 million so far. So you can see we have a little ways to go. If we need to make a big push with this I'll let you know. Right now, I think we're on target and I think if everyone does their part we should be okay.
Thanks for all you do to help Santa!

https://santatrackers.net/wp-content/uploads/2020/10/100120.jpg
321
845
Elf Max
https://santatrackers.net/wp-content/uploads/2022/02/logo5.png
Elf Max
2020-10-04 23:15:08
2020-10-04 23:15:08
Elf Training #7 – Recruiting Elves