Elf Training #6 – Your Tracking Center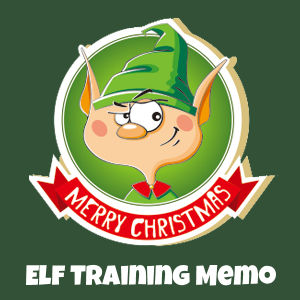 Hello elves!
First of all, welcome to October! It is going to be a busy month.
Today's training memo is more important than you know. You are an elf. This training is about something you maybe haven't thought of: the Environment of Elfing.
Being an elf is more than just saying you're an elf. To be an elf you actually have to think like an elf, breathe like an elf and speak like an elf. That's not easy to do when you're not around other elves or at the North Pole or have never shown how to actually be an elf.
Not your fault, friends. Don't feel bad and don't blame yourself. This is why we have elf training.
The Environment of Elfing is a happy place. A peaceful place. A hopeful place. A place filled with Christmas Spirit. It is a place where work gets done when it doesn't really feel like work.
How do you create such a place?
Think about it: if you were an elf at the North Pole what would you see? What would it look like? What would it feel like?
Those are the kinds of questions you need to ask — and the challenge that you have — as you prepare for setting up your own tracker elf center at home. You gotta make it like an elf would have it.
So I want you to give it some thought. This is why we talk about these things in October. Getting your home Santa tracking center ready is a big, big part of doing your part as an elf.
Now, I'm not saying this is going to happen but I guess it COULD happen: but what if your home tracking center were to be used by…another elf? What if some sort of weird emergency happened and you ended with with two or three other elves in your home tracking center on Christmas eve? You'd want to be ready, right? You'd want to have the right environment for them, right?
So just what should be in your home tracking center? Well, there are a lot of right answers to that. Here are some things you COULD do…but as Santa always says, "it's up to you":
A Christmas tree — it doesn't have to be big and it doesn't have to be small. Or fancy. But a Christmas tree goes a long way to bring the Christmas spirit into your elfspace.
Two screens – one for the Santa tracking map, another for communicating with the North Pole and reading the news.
Your elf hat. Of course.
A nice supply of eggnog in the fridge, and some extra Christmas cookies on the side.
Christmas lights.
A good comfortable chair for you…and one for a visitor.
Something to write on. You might be making a list of things you need to do.
Extras: a flashlight, a pair of binoculars, and your winter shoes, coat and gloves (if it is winter where you are), just in case you need to go outside quickly.
Of course, you will want to customize your elfspace with other Christmas things that make you feel good. There are no set rules here.
Questions?
Fire away.

https://santatrackers.net/wp-content/uploads/2020/10/092920.jpg
321
845
Elf Max
https://santatrackers.net/wp-content/uploads/2021/03/logo-1.png
Elf Max
2020-10-02 07:01:58
2020-10-02 07:01:58
Elf Training #6 – Your Tracking Center