Elf Training #5 – Tracker Elf Check In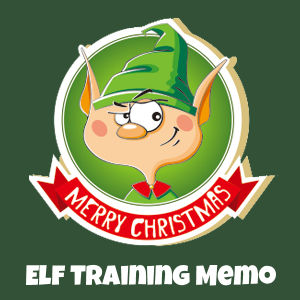 Howdy, Trackers!
Let's talk about the Tracker Elf Check-in, shall we?
The tracker elf check in is a special process that we NEED to go through right around December 22nd-23rd. I know it might be odd that we never ask you to be here or to check in with us any other time of the year. Elves are independent that way. Santa doesn't like supervisors always breathing down your neck.
He figures, that as elves, you're smart enough to get the work done you need to do without being told when to do it.
So please understand that when we say we want you to check-in that it has nothing to do with telling you how to spend your time.
But here's the deal with this: if you take the time to check in with us when we ask on those dates then we have a good idea of how many elves are out there working.
Look, we know it's Christmas. You're busy. Santa does NOT want your elf work to get in the way of your family. Your family is more important. So, instead of trying to guess how many of the 40 million elves out there are actually on the job…we ask that you tell us when you're there.
After all, if we need to get hold of you we need to know that you're there. We don't want to interrupt you when you're doing other things with your family.
So we will sent out a call for elves in each sector to check in at certain times.
You will see the link to that page. It is important that you DO NOT check in for you sector until we ASK you to? Do you understand this? Come December 23rd North Pole Flight Command is one crazy place. We really need to you follow instructions on this day and try not to do things out of order.
It's my job to make sure all the instructions are very plain to you.
So what happens when you check in? Glad you asked! When you check in, your name is added to what they call a "queue". By checking in we can see at just a glance how many elves we have in any given area.
Say there's a big storm brewing close to where you are. We MIGHT ask you to do something special — to report on the weather or something — because Santa or ANOTHER North Pole sleigh could be in the area. If we need information quickly we turn to you, our elves, to help. We can't turn to you however if we do not know if you're there. So do you see why check in is so important?
On December 22nd, December 23, and December 24th you are going to want to be here as much as you can. Please check in when you are available on those special days.
Thanks!

https://santatrackers.net/wp-content/uploads/2020/09/092720.jpg
321
845
Elf Max
https://santatrackers.net/wp-content/uploads/2022/02/logo5.png
Elf Max
2020-09-27 23:36:50
2020-09-27 23:36:57
Elf Training #5 – Tracker Elf Check In