Elf reviews and ratings are a way to see an elf's reputation in the community. The process is open to any elf but it is utilized most frequently by Elf Supervisors especially.
The ratings are displayed in a couple of places but is most prominent under the elf name in the Elf Profile, signified by the yellow stars: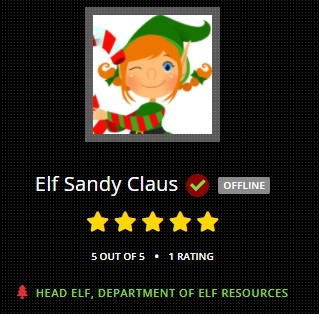 How to give Elf Reviews and Ratings
You can review and rate any elf by simply going to their profile. Mouse over the top right hand corner of the screen and the review button will appear: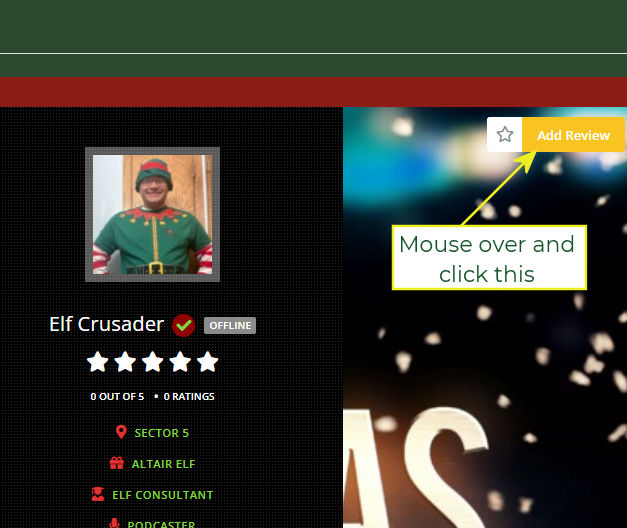 When that button is clicked a window will pop up that will allow you to give a star rating and to write a review:
Be Careful with Elf Reviews and Ratings
Elf reviews and ratings are points-generating features. Elves want good reviews and ratings, especially from Elf Supervisors, because they help overall Elf reputation and lead to more points, higher ranks and new badges.
But they can also lead to point deductions, which would lead to lower ranks and badge retraction. Bad reviews have consequences.
Giving poor reviews and saying bad things about an elf unnecessarily could lead to consequences that are not good either.
As an elf, you want to recognize your fellow elves for the help they offer you. It could be advice they give you, an attitude that is helpful, or different contributions they make to the elf community – from posts to podcasts, there are lots of things you can do to recognize a fellow elf.