North Pole Flight Command has divided the world into 5 sectors, shown on the map below. It is vital that every tracker elf tracking Santa for Santa knows what sector they live in.
Each Sector has its own Regional Tracking and Flight Command Center (which is where your supervisor works). It is their job to know about every sleigh, every plane, every ship and every major transport unit in the sector.
Each Regional Tracking Center also collects the reports that come from tracker elves like you. They send them to Flight Command, who then sorts them in the order Santa will need as he flies around the world.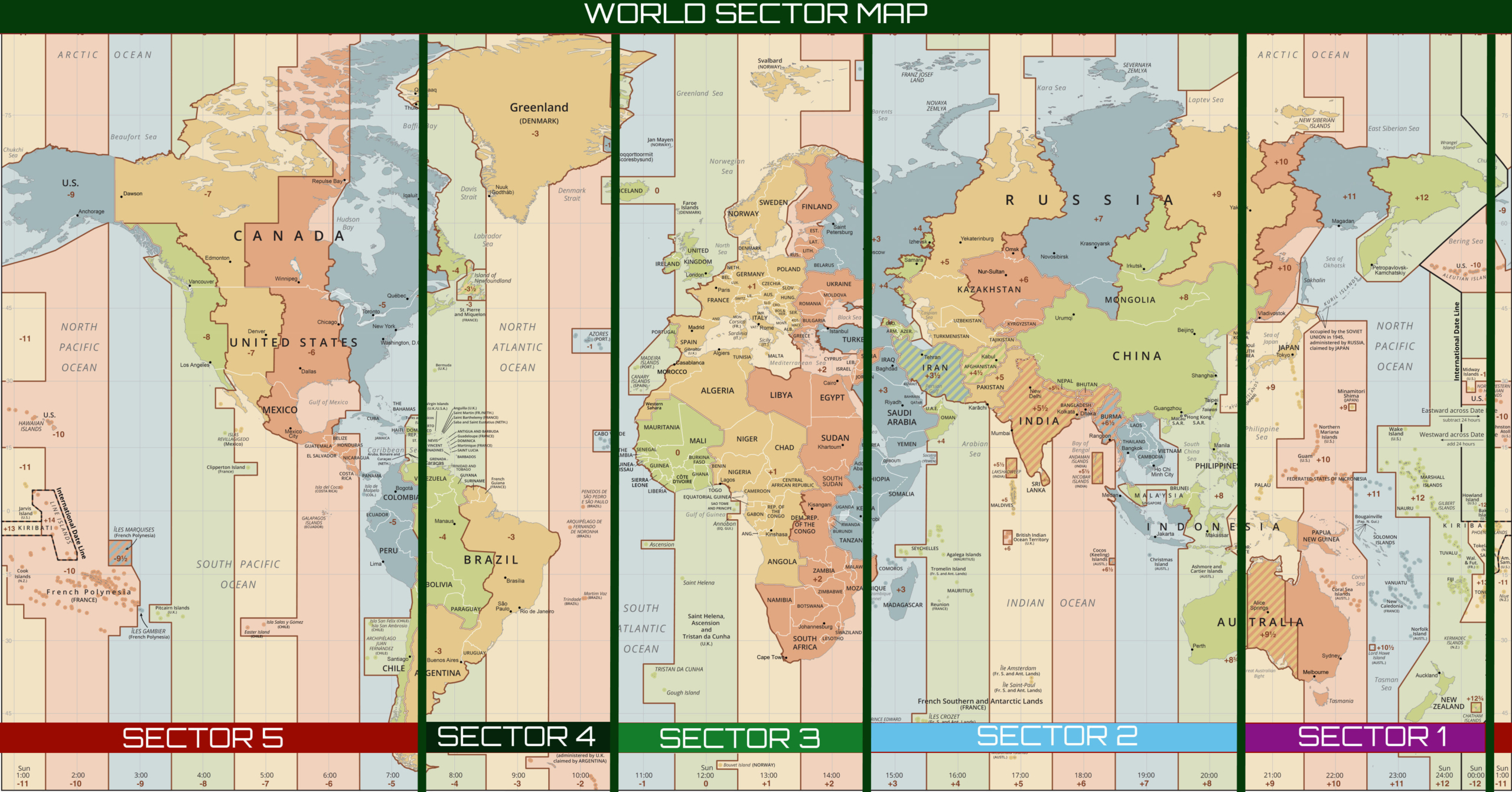 — This sector is the first to receive Santa's deliveries. It covers the countries of Australia, New Zealand, Fiji, Samoa, Tonga, all of Indonesia, Vanuatu, Japan, the Philippines, Guam, Wake Island, and extreme northern parts of Siberia near the International Dateline.
Sector 2 — Asia and the Middle East
— This massive sector covers a huge part of the world populated by billions of people. It covers most of Russia, China, India, Pakistan, Afghanistan, all of South East Asia and the countries of the Middle East.
Sector 3 — Europe and Africa
— Europe and Africa are both densely populated with believers that dates back centuries . The sector covers both continents completely.
Sector 4 — Greenland and South America
— From Greenland to the North and Argentina to the south this sector covers all the countries of Latin America including many of the island nations of the Caribbean.
Sector 5 — Central and North America 
— Another huge area with hundreds of million Santa believers, most of which are very adept at tracking Santa. This covers all of Canada, the United States, Mexico and all of Central America.