Elf Training #4 – Roof Reports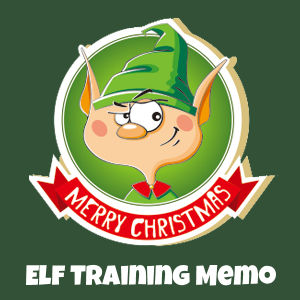 Hi Trackers!
Santa spends a lot of time on roofs. You know this.
The problem Santa sometimes runs into on Christmas Eve is that some roofs never get any attention. Not every roof is safe to land a sleigh on. More importantly, not every roof is big enough to hold a sleigh and 8 or 9 reindeer.
It is very helpful to Santa if tracker elves, just before Christmas, actually get a look at the rooftops of their own homes and of others nearby to report any problems they can see.
Now: here's the important part of this. Never, EVER, get on a roof or even a ladder or step stool or other object to look at a roof. Santa does not want you doing that. You MUST remain safe.
But, from the ground, you can tell a lot about a roof by just looking at it.
This report, as simple as it is, should NOT be done now. The information months and weeks before Christmas will not do Santa any good. A roof inspection and report would be best to do just before Christmas.
The MOST important part of this report is to report on an alternative landing location if a roof is not suitable. You know your own neighborhood better than anyone. Don't be shy in telling Santa your opinion.
Santa takes these reports very seriously. The sleigh is equipped to receive reports so Santa can see than as he flies and before he lands. The North Pole receives them from you and formats them for Santa's viewing right on the sleigh.
The link to submit a roof report is right here.
If you have any questions about this report, please post them in the comments below and I will try to answer them for you.

https://santatrackers.net/wp-content/uploads/2020/09/092520.jpg
321
845
Elf Max
https://santatrackers.net/wp-content/uploads/2022/02/logo5.png
Elf Max
2020-09-25 06:46:40
2020-09-25 06:46:40
Elf Training #4 – Roof Reports