Elf Training #18 – Holidays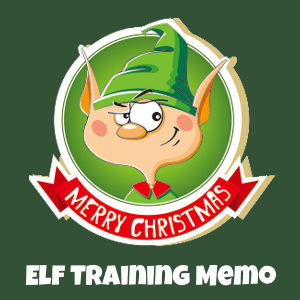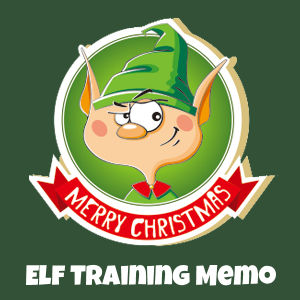 You thought I forgot about Elf Training #18, right?
I did not forget! I had to get it approved before I could post it. Can you believe that?
The reason is because our topic today is holidays. And it is a very serious one for all elves. Holidays are a serious big deal at the North Pole and, as elves, we need to treat them seriously.
For example, do you know what Santa's favorite holiday is? It's Thanksgiving.
Did you know that? I didn't know that before I became an elf. It is very important information to know. You'd think Christmas would be Santa's favorite holiday and he loves it. But it's not at the top of the list.
Well, if he is the Head Elf and he likes Thanksgiving then I think the rest of us elves who are trying to be the best elves we can be should try to understand that — and all holidays.
Celebrating holidays is important. We need to look at the special days on the calendar to not only learn new things but also to connect and re-connect with people we love. Holidays in a way teach us to have purpose in our lives.
Christmas, of course, is what we focus on. As elves, we do it to serve other people and Santa. That's a good thing.
Every holiday has good things behind it.
You'll be reading at SantaUpdate.com this week a lot of news about Thanksgiving and how elves there are celebrating. Use your reading to learn and to think about the holidays you experience.
Does that mean you should celebrate Thanksgiving if you live in a country where Thanksgiving isn't observed?
Well, here's the deal with that: you do not have to eat turkey or march in an Elf Parade to celebrate Thanksgiving. It's not about stuff like that. But it is about being grateful and showing gratitude in all you do on that day.
That is why Thanksgiving is, after all, Santa's favorite. It is what Thanksgiving is all about that is most important. You might want to look for ways to do that.
Holidays are also different days. We don't work on holidays. Santa calls play time as important as work time, especially for elves. Holidays are play time. Make sure you take time off on holidays.
Being with your family is also important on these days. It does not matter what you do or what you eat on those days — but just be with your families while you are doing it.
36 million elves now!!! It is an exciting week for those of us in the elf business. Stay tuned for more news this week.
https://santatrackers.net/wp-content/uploads/2020/11/112420.jpg
321
845
Elf Max
https://santatrackers.net/wp-content/uploads/2021/03/logo-1.png
Elf Max
2020-11-24 06:46:52
2020-11-24 06:46:52
Elf Training #18 – Holidays