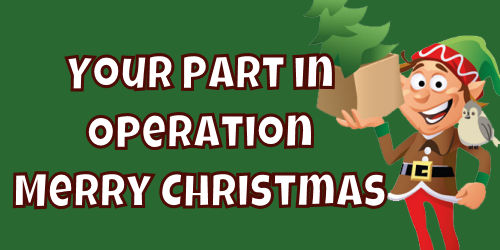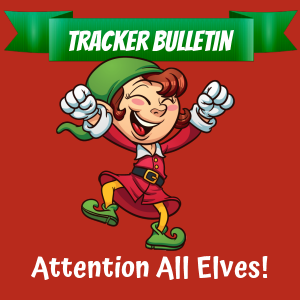 Hello Trackers!
Next week the North Pole kicks off Operation Merry Christmas. Even though you are not at the North Pole you can still participate.
Operation Merry Christmas is basically the effort we all engage in year round to get Santa off the ground. Our job is to get him out on time and around the world before everyone wakes up on Christmas morning.
It sounds like an easy thing but it is actually very complex.
That is why Santa wants a total of 20 million tracker elves this year.
We have, as of this morning, a little bit more than 12 million tracker elves.
We knew this would be a difficult thing to do. We knew most of our new elves this year would come after December 1st. We also knew we couldn't do it without your help.
How can you help us get more elves? Let's count the ways.
Tell your parents and ask them for their ideas.
Talk to your friends and give them the link to this site.
If you are on social media, talk about the need and send people here to SantaTrackers.net
Send in your ideas to the North Pole about recruiting more elves.
I will do my best to keep you informed of our progress. I will also be sending out some instructions this next week about what you need prepare in order to Track Santa 4 Santa this year. We will be asking those of you who are able to send in photos of your Christmas tree and your own home tracking center. We need your ideas and input.
Thank you for your support of Santa and the North Pole.
https://santatrackers.net/wp-content/uploads/2019/11/112119.jpg
250
500
Elf Roger Star
https://santatrackers.net/wp-content/uploads/2022/02/logo5.png
Elf Roger Star
2019-11-21 13:05:42
2019-11-21 13:21:43
We Need More Elves