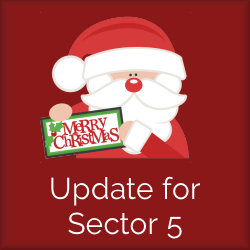 A test flight of Santa's Sleigh over North America is getting some attention from trackers in Sector 5.
According to North Pole Flight Command the very purpose of the flights there today in the USA and Canada is to see if trackers can catch them. They are testing the map being used in flight command (and seen here at SantaTrackers.net) and asking for trackers to respond by visual confirmation.
Some have reported already they have seen the flight.
Elf Tracy, located in North Carolina in the USA, said in her report that she "saw a streaking light in the sky" this morning and thought she heard sleigh bells.
Another tracker, Elf Snickles he calls himself, who is also in North Carolina, reports seeing Santa's sleigh in the morning skies too. He describe it more as a "fast moving blob". He did not report hearing sleigh bells or seeing reindeer.
Today is a big opportunity, trackers! Keep your eyes up to the skies and let us know if you see anything!