Sector 3 HQ Moves to Scotland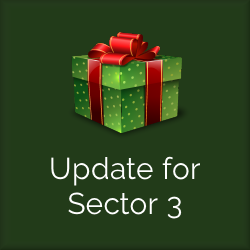 Greetings Great Elves of Sector 3!
It took a few days and finally we have good news to report. The space for the new Tracking Center HQ for sector 3 has been obtains and engineers are on their way now to Star, Scotland to begin work on the new facility there. Like all regional North Pole tracking centers, I cannot disclose the precise location. The facility will be unmarked and locked to the public.
Plans that I have seen for the building show that it will not need to be remodeled and that with the exception of a live Internet connection it will be ready for us very soon — as soon as the 9th or 10th, about a week or so away. As such, we could be the first regional tracking center the North Pole will have in operation.
That's very good news for us in Sector 3. North Pole Flight Command tells me that the growth in Santa tracker elves for Europe and Africa is exceptional this year. We will need a little extra time to get organized and prepared for all the new reports we anticipate receiving this year.
I have received some communication from a few new elves who are asking for an in person meeting.
I'm not sure that will be possible. Just so you know I have asked senior management for their thoughts on that and I will let you know what they tell me.
Given all we need to do in the next week or so the elves in Sector 3 should be aware that it might be more than a week before I send another communication to you. But, that being said, I think you can count on me sending regular updates to you from about the 12th or so moving forward.
Looking forward to a great Christmas of tracking Santa with you trackers in the GREAT Sector 3!
https://santatrackers.net/wp-content/uploads/2020/12/112920.jpg
321
845
Elf Rolf Janssen
https://santatrackers.net/wp-content/uploads/2021/03/logo-1.png
Elf Rolf Janssen
2020-12-02 20:44:21
2020-12-02 20:44:21
Sector 3 HQ Moves to Scotland