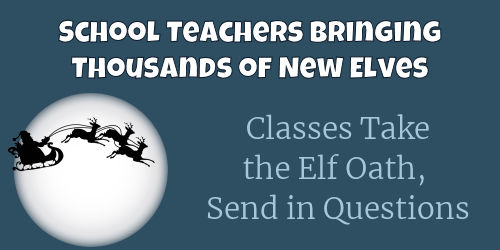 Teachers Doing a Great Job
In the past week we have seen a large increase in the number of school teachers signing up their classes to track Santa for Santa. This is helping to grow the ranks of new tracker elves for this year.
We saw the same thing happen last year. Teachers see the educational benefit of children becoming tracker elves for Santa.
Santa loves it too. He believes that no child is too young to become an elf. A tracker elf job is where many of Santa's better known elves all got their start. Tracking Santa for Santa is a great way to kick off a long elf career.
Teachers are also great at communicating. We have received a number of questions through school teachers, which will be answered both here and at SantaUpdate.com.
As the recruiting efforts go through the schools and bring a flood each day of new individual sign-ups at night we do encourage all who have friends they can talk to online about coming to SantaTrackers.net to continue to do so. Our single best recruiting tool is referrals. Please tell them to come here and sign up to become an elf.
In the coming days we will be sharing information about what you can do to be ready. We will talk about setting up your home tracking center, how to send in the reports Flight Command needs from you and when to send certain reports.
We are quickly approaching the time where we will need some pre-launch reports for Santa as well.
We're just waiting on Santa to send us the word of what he wants.
So please check in every day here to see what is new.
Thanks!
https://santatrackers.net/wp-content/uploads/2019/12/120619.jpg
250
500
Elf Roger Star
https://santatrackers.net/wp-content/uploads/2021/03/logo-1.png
Elf Roger Star
2019-12-06 07:00:31
2019-12-06 07:00:31
Teachers Doing a Great Job