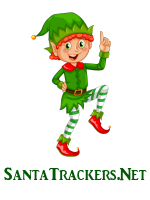 SantaTrackers.net is FREE for all users. You do not need to spend money here and Santa does NOT require it.
The expanded options listed below offer a special Santa Tracker radio channel provided by the North Pole Flight Command Center for those elves who opt to use it.
The stream is exclusive to SantaTrackers.net and it is entirely commercial-free.
It is available year round for subscribers and it broadcasts for free each December 18th through December 25th so that all Santa Trackers can enjoy it and receive instruction and special programming at the most critical time.
Proceeds gathered benefit Santa's Sleigh, a collective charitable effort by Santa's elves to help families in need each holiday season.
FREE
FREE for all aspiring elves! The tracker elf position only requires you to know the
Elf Code
and to live by it. You need only to be a believer with the heart to help Santa get around the world on Christmas Eve.
$10.00
The Tracker Elf 1st Class level are for those tracker elves who want to enjoy the Santa Tracker Channel by Kringle Radio year round offering commercial-free Christmas music and special radio broadcast news, information and programming just for Santa's elves on location.
$25.00
Generous elves who wish to contribute more to
Santa's Sleigh
may do so here.