Job Title: Sector Weather Analyst
Closing Date: Ongoing
Job Type & Term: Permanent
Can you hold this position and another elf job at the same time? Yes, but there will be periods of time when the demands of this position may be intense, especially during the week of Christmas
Job Description: A Sector Weather Analyst researches and reports on weather events in all areas of the sector. The Sector Weather Analyst also advises sector leadership on flight plans for the sector, whether it is for Santa or for test flights of Santa's sleigh. Here are additional details:
Keep a general eye on Internet based news resources of weather events and forecasts
You may be assigned one particular area of focus within the sector
Send copies of forecasts for areas of concern to Sector HQ via a special online weather portal
Repeated reporting will be required during flight events
Participate in a closed group for weather elves on SantaTrackers.net
Experience Required: You must be an active member of the Elf Community at SantaTrackers.net with one year of service as a tracker elf.
Points Required: 5,000
Rank Required: Elite Elf or higher
Elf Knowledge Test Minimum Score Required: 95% – you gotta know all the elf stuff!
Certifications/Badges Required: Verified Elf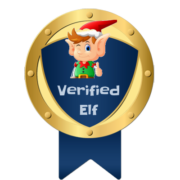 Upon successful application and interview process, any elf taking on this position will be awarded 5,000 points and the following badge: