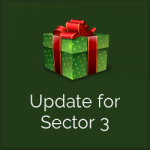 Alas, the time has come.
North Pole Flight Command has informed me that all tracker elves in Sector 3 are now required to stand down.
That means our night of tracking Santa is done. It's time to hang up our stockings and call it a night.
Thank you for your fine work this year in tracking Santa. I'm certain we made a difference for Santa.
Hopefully we'll see you great trackers of Santa in Sector 3 again next Christmas.
To the trackers still working in Sectors 4 and 5 — good luck.
And to all of you, a very Merry Christmas.