Elf Training #3 – The Red Zone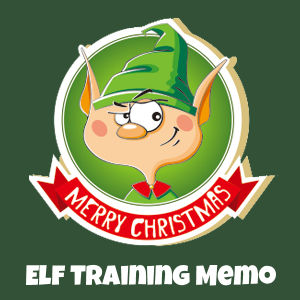 If there is one moment out of the year that every tracker elf lives for it happens when they enter the Red Zone.
What is the Red Zone?
The Red Zone is a time when elves go on high alert. It happens when the clock ticks past midnight on December 24th. From that moment on, it is all hands on deck.
Why is it called the Red Zone? And why does the rest of the world not really know about it?
The term "Red Zone" applies to anyone working in the Operation Merry Christmas effort. Sleigh pilots use it, Flight Command uses it, all the news elves, the workshop elves, the wrapping elves and even the reindeer use the term "Red Zone". Why? Because it means "high alert".
It means Santa is on the way.
It means you could see sleighs in the skies near you at any time. It means things are happening and you need to be heads up.
Going into the Red Zone means that there are a hundred things in motion in your area. For example, the Weather tracking team in Flight Command has elves that are dispatched by sleigh to different parts of the world to gather high altitude weather data. They do this because Santa will need to know how conditions are when he flies through an area. The sleighs taking their weather elves on their missions fly night and day — so the chances of you seeing one are actually quite high.
There are other sleighs in the skies too — scouts, freighters, transports — and they are most active in the Red Zone, those crucial hours before Santa actually arrives in an area.
The Red Zone means that folks need to hang their stockings and to be aware of incoming bedtime advisories.
We have been receiving a lot of questions lately about the bedtime warnings. They are not a complex thing. Direct from the sleigh Santa will sent out a heads up to folks who he will be visiting soon. Santa does this because customs on Christmas Eve vary around the world. Especially in places like Sector 1 where it is summer at Christmastime. Folks in that part of the world often stay up late in the night and many are outdoors during late hours. Santa will send them a bedtime warning so they know when to get to bed.
The bedtime advisories usually flow through NorthPoleFlightCommand.com and many of them get posted at SantaUpdate.com.
They usually will not show up here. But as trackers, you should already be keeping tabs on the other sites. You are expect, as elves especially, to respond appropriately to Santa's bedtime warnings. They are for you, too.
Many trackers are tempted to stay up past their scheduled times and this you must not do. It has been a problem for many elves, especially in Sector 3 for some reason, who want to stay up to see what happens even AFTER Santa has visited them.
We understand that. Tracking Santa is fun and the news is exciting. But it just can't happen, elves. You need to get to bed when Santa requests it. You can always read the news here and on the other Official North Pole websites later.
https://santatrackers.net/wp-content/uploads/2020/09/092320.jpg
321
845
Elf Roger Star
https://santatrackers.net/wp-content/uploads/2022/02/logo5.png
Elf Roger Star
2020-09-23 05:40:57
2020-09-23 05:40:57
Elf Training #3 – The Red Zone