Yes, YOU can become an elf!
You're never too young…or too old.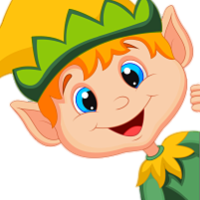 An elf is someone who works for Santa. An elf can work in many jobs.
If you are interested in being an elf, please click here. You will need to learn the Elf Code before applying to become an elf.
At this website we work with special elves. This site is for tracker elves. A tracker elf is an elf who tracks Santa for Santa.
If you want this elf job, you need to already be an elf.
Then click on this link to become one of Santa's tracker elves.