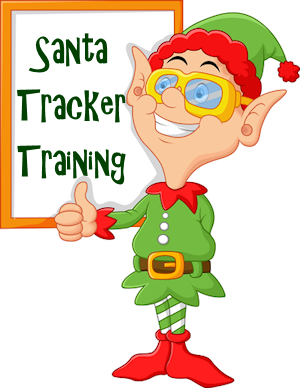 Your new title will be Elf Tracker 2nd Class of the North Pole Tracking Department. You will have the following responsibilities:
1. Know your immediate surroundings and report conditions to the North Pole.
Yours is a field position. You do not wear a uniform but you can and should tell anyone you associate with that you are, indeed, an elf. Inform them that you are on an official mission in the service of Santa. You are required to observed local conditions and report them to the North Pole. You will make note of weather issues, flight obstacles, Christmas readiness and other conditions that will prove information to flight planners at the North Pole as they prepare the way for Santa and perhaps serve as an advisor to Santa himself as he nears your area on Christmas Eve.
2. Track Santa at every stage — in pre-flight, during launch, before he enters your sector, when he is in your sector, and after he leaves.
You must use every means at your disposal, including websites of the Tracking Department at the North Pole, to ascertain Santa's position and to anticipate his arrival in your area.
3. Be available, be alert and be active in reporting all news of your assigned territory during Santa's flight.
Your constant reporting of conditions is required, especially in the hours preceeding Santa's arrival in your locale. You must be accurate, timely and detailed in your reports. You must keep secure communications with the North Pole active and confidential during this time.
4. Recruit additional Tracker Elves who, in your judgment, possess the skills necessary for the job.
The strengths of your reports only improve as you recruit other elves in your area to the effort. The more eyes you have reporting the greater your standing with the North Pole Tracking Department and in the elf community. Be a leader among elves!
5. Be an ambassador of Christmas spirit, spreading the good cheer of the season and inviting others to do the same.
This is happy work that requires a cheerful, positive disposition. As a representative of Santa Claus and the North Pole you are an ambassador of the Christmas Spirit and charged with spreading that good cheer far and wide.