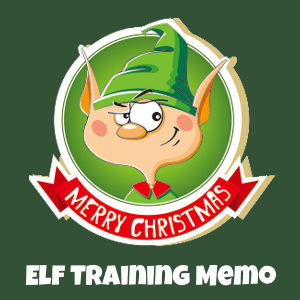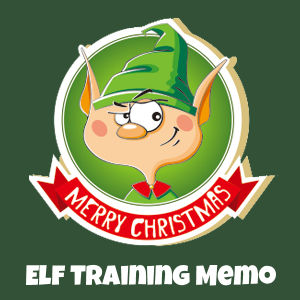 First, welcome to working for Santa. We know how overwhelming it can be. But don't worry, we'll get you set up.
Just follow the ten simple steps below and then ask questions. We're here to help:
Learn the Elf Code: Print it, sign it, and put it in your Christmas stocking
Take the Elf Oath: Say it out loud with your hand on your heart. Learn it, love it, live it.
Get Your Elf License: Print it for your wall, print it for your wallet.
What Daily Elf Worklife is Like: One of the biggest questions is what our work routine is as elves. Most of the year, your elf life fits around your regular life pretty easy. You just check in a little each day and try to respond to things that are asked of you. But, the last couple of days before Christmas get a little busier. All that you see below prepares you for that.
Begin Elf Training: These brief posts give you specifics of certain things about being a tracker elf. You gotta learn all this stuff.

Websites, Links and Online Tools to Use: You should only use OFFICIAL North Pole Websites. Do not use trackers from search engines or the military. Only Santa-approved sources for Santa's elves should be used.

North Pole Flight Command – this is made by the Tracking Center at the North Pole. They direct Santa's flight.
Santa Update – the Official North Pole news website. It has been online longer than anybody tracking Santa. The Original. From Santa. The Best.
Santa Tracker Radio – It plays right here on SantaTrackers.net. Sometimes news only for you is broadcast
Jingle Kringle – Call or text Santa and the North Pole
Elf HQ – This is the Department of Elf Resources at the North Pole.
Get the North Pole Newsletter – Email that's all North Pole, all the time

Set Up Your Home Tracking Center: You need a good place to work. You will want to have your workspace at home set up long before Christmas.
Working with Your Parents: Your Mom and Dad need to know everything you're doing here. Tell them. Try to recruit them as elves.
Recruiting New Elves: Bring your siblings, cousins, friends, family and neighbors to become elves too. Santa needs as many as possible.
Develop a Work Strategy: Make a list of things to do/check everyday. Talk your work plans for the three days before Christmas with your family.