Yes, YOU can become an elf!
You're never too young…or too old.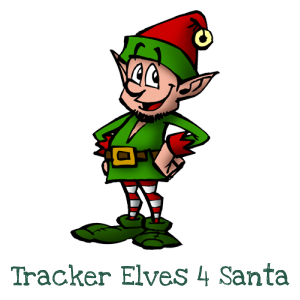 An elf is someone who works for Santa. An elf can work in many jobs.
Do you track Santa on Christmas Eve? Would you be interested in tracking Santa FOR Santa? Would you like to do that as an official elf?
Several years ago Santa was inspired by one lone elf whose job it is to track Santa on Christmas Eve. From that sleigh behind Santa he reports news of Santa's position on the radio. Some call him the Ultimate Santa tracker because he does this.
Not only was this elf doing a public service by providing news about Santa. He was also providing vital information to North Pole Flight Command that helped Santa on his flight.
Santa thought, "What would happen if we had elves in places all over the world reporting information to North Pole Flight Command?"
That's exactly what this website does. It recruits, trains and organizes elves everywhere to track Santa for Santa. Their efforts help Santa fly safely and, believe it or not, faster. It helps Santa, it helps the world.
This is not a Santa tracker like you see anywhere else online. If you track Santa here you do it as an elf. You get inside information. You get Santa tracking from the North Pole itself.
How do you join this merry effort? Just follow these steps.

Elves live by something called the Elf Code. The code teaches you what it means to be an elf. Being an elf is not something you do for yourself. It is not something you do for Santa. Being an Elf is all about others. The Elf Code teaches you how to do that. You must know the Elf Code.
Click here to learn the Elf Code. 

Being an elf requires many things – including promises made by you to live by the Elf Code. Working in the Service of Santa means behaving like Santa. Santa, after all, is an elf too. If you want any kind of elf job, you need to take the Elf Oath.
Click here to take the Elf Oath. 
There are literally thousands of elf jobs. But the first elf job is the one you find right here as an official tracker elf. SantaTrackers.net will train you in the life of being an elf, it will educate you in the work of trackers worldwide, and it will introduce you to an elf community that is dedicated to helping Santa deliver every Christmas.
Click here to Apply to Become a Tracker Elf