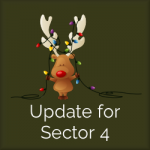 North Pole Flight Command is concerned with air traffic levels in Sector 4. They'd like a report for us on it.
Click here to go to this report.
You don't need to be near an airport to report on air traffic. Just look out the window and tell us what you see in the skies.
That kind of information will be good enough.